Night at the Library 2015
A Night at the Library 2015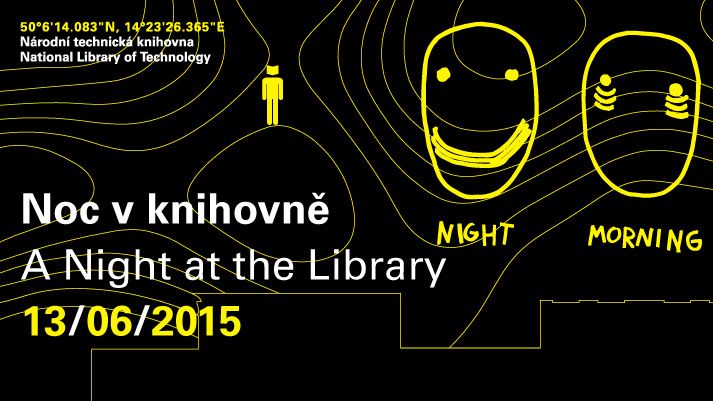 Exhibitions
Generation Smart. Contemporary young artists reflect on the ubiquitous presence of digital images, smart technologies and social networks in our lives.
Artists: Kryštof Ambrůz, Filip Dvořák, Jakub Geltner, Katarína Hládeková, Ondřej Homola, Martin Kohout, Martin Kolarov, Adéla Korbičková, David Krňanský, Ladislav Kyllar, Martin Lukáč, Kristýna Lutzová, Black Media, Andrea Mikysková, Richard Nikl, Olbram Pavlíček, Julius Reichel, The Rodina, Lucie Rosenfeldová, Barbora Švehláková, Ladislav Tejml, Nik Timková.
Curators: Milan Mikuláštík and David Kořínek
Gallery NTK, Ground Floor, 7:00 p.m. – 1:00 a.m.
A Modern History of Prague from the Perspective of a Geographer. This exhibition showcases a collection of thematic maps of Prague illustrating the development of socio-spatial neighborhoods and structures (early twentieth century to the present). More information here.
Ground Floor Public Space, 7.00 p.m. – 1.00 a.m.
Wikimedia Czech Republic / Photo Competition: Wiki Loves Monuments, 2012 - 2014. An exhibition of the best photos from the world's largest-ever (according to the Guinness Book of Records) photographic competition. Copyright-free photos of well-known and lesser-known sites from across the Czech Republic and beyond.
Galleries, Floors 3-5, 7:00 p.m. – 1:00 a.m.
Czech Scientists and their Inventions.This exhibition—developed in conjunction with the Open Science III project as a mechanism for introducing young people to Czech scientists, inventors, and discoverers—depictsCzechscientists andtheir most famousdiscoveries in cartoon format.
Ground Floor Public Space, 7:00 p.m. – 1:00 a.m.
Films
Film Shorts from the Life Sciences Film Festival (or: Science Around and in Us). A selection of films from this international natural sciences film festival. Themes include nature, resources, agriculture, food, health, sustainable development, and many other issues as perceived by included filmmakers.
Balling Hall, Ground Floor, 7:00 p.m. – 12:00 p.m.
Live Multimedia Presentations
Library Atrium, Second Floor
Václav Tobrman, Living Jukebox / 7:00 p. m. - 8:00 p.m.
Amazing Physics Theater / Center of Gravity
How hard is it to keep everything in balance? This performance is about our centers of gravity. All of us are kept from flying into space by the earth's gravitational attraction. Learn more about the invisible forces which surround us.
8:30 pm to 9:00 pm
Amazing Physics Theater / People Electric
Introduce yourself to electricity, literally. Bioelectric experiments have been performed by scientists since the eighteenth century. Tonight's illustration of how the human body interacts with electricity may leave you positively energized.
10:00 pm to 10:30 pm
Tuba Quartet Síla / 12:00 p.m. - 00:30 a.m.
Václav Tobrman – Living Jukebox / Café, 8:30 p.m. - 10:00 p.m.
Night VJ.Dialog of sound and pictures / at the entrance to NTK, 10:00 p.m. - 1:00 a.m.
Showcasing Science
Science and Technology at the Heart of Dejvice V.
Showcasing Science presents Dům zahraniční spolupráce, Ústav fotoniky a elektroniky AV ČR, Ústav chemických procesů a Ústav experimentální botaniky AV ČR, Vysoká škola chemicko-technologická Praha.
Room PC 02 and Team Study Rooms, Third Floor, 9:00 p.m. - 12:00 p.m.

ARS BELLUM: The Art of War in the 17th and 18th Centuries. Play soldier in addition to viewing an exhibition of materials from NTK's historical collection about military history and artillery. Thematic activities for young and old.
Room PC 01, Third Floor, 7:00 p.m. – 11:30 p.m.
Czech Wikimedia / Contributing Articles to Wikipedia. How exactly are encyclopedic Wikipedia articles structured? Showcase of how to create Wikipedia articles about science and technology topics (including construction, architecture, and engineering). Plus general information about how Wikipedia works.
Quiet Study Room, Third Floor, 7:00 p.m. – 12:00 p.m.
Creative Commons: New Opportunities for Czech Creators and Users. Are you an author and would you like to make your work freely available without losing authorship? Would you like to download photos, videos, or text and use them broadly? Use the Creative Commons license.
Presenting: National Library of Technology (NTK), Iuridicum Remedium (IuRe), Masaryk University (MU)
Third Floor, 7:00 p.m. – 11:30 p.m.
Guided Tours of NTK
Book Digitization at NTK. Meeting point is at the vending machine corner, 3rd floor / Pick up tickets there / Max. number of people in a group: 15
Third Floor, 7:00 p.m. – 11:30 p.m.
Underground Book Storage. Meeting point is at the Information Desk, 3rd floor, every 15 minutes.
Third Floor, 7:00 p.m. – 11:30 p.m.
Guided Curatorial Tours. Curators Milan Mikuláštík and David Korinek describe the exhibition Generation Smart / Gallery NTK,
Gallery NTK, Ground Floor, 8:30 p.m., 9:30 p.m.
Food and Drink
Teajay. Come and experience delicious teas from all over the world.
Sixth Floor, 7:00 p.m. – 12:00 p.m.
Creperie Galetka
7:00 p.m. – 1:00 a.m. in front of NTK

Crush Street Food. Great burgers using the freshest and highest quality ingredients grilled to order under the hood of a stylish Citroën.
8:00 p.m. – 1:00 a.m. in front of NTK
Other Activities
HappyBox Photobooth. Mark tonight's occasion by taking unconventional photos with friends or props. Special commemorative Night in the Library backdrop.
Ground Floor Public Space, 7:00 p.m. – 12:00 p.m.
Exclusive T-shirt printing. You can create your own T-shirt with drawings by Dan Perjovschi, the artist whose work adorn the galleries of the central atrium of the library.
7:00 p. m. – 12:00 p. m. in front of Balling Hall

When
June 13, 2015
National Library of Technolovy
Technická 6, 160 00 Praha 6
7:00 p. m. - 01.00 a.m.
Free entrance
Contact
Lucie Palusková
‌lucie.paluskova@techlib.cz
‌ +420 232 002 577
See also
Partnership

More information about Prague Museum Night here.
Pictures