Current program
Angry Planet
Global Conflicts and Local Interactions
International group exhibition, which is a conclusion of cooperation between National Library of Technology and Institute of Philosophy of Academy of Scieneces of Czech Republic.
Exhibition Openning
Thursday, April 20, at 18:00, Gallery NTK
Exhibition dates
April 21 - June 17, 2017
Free entry
Exhibiting artists
Martha Rosler, Atelier van Lieshout, Bjørn Melhus, Milan Kohout, Juraj Dudáš, Radovan Čerevka, Martin Zet, Alexej Klyuykov, Vasil Artamonov, Karíma Al-Mukhtarová, Jan Kadlec, Ivan Vosecký, Vladimír Turner and more.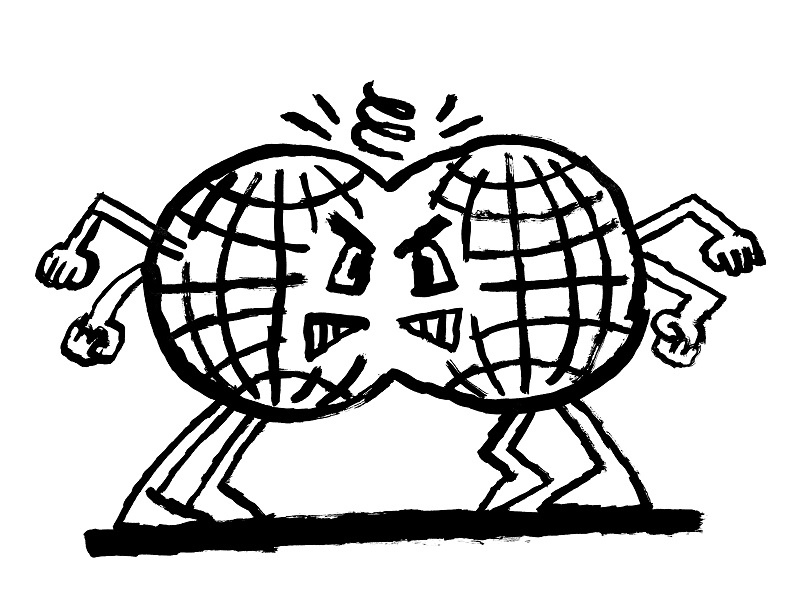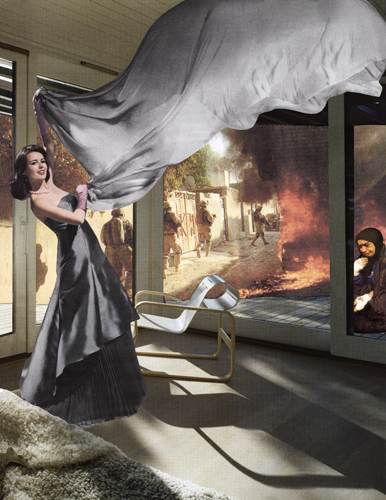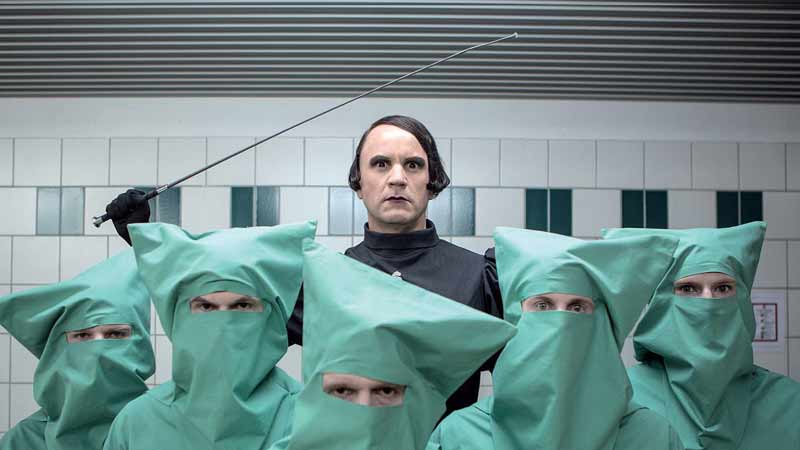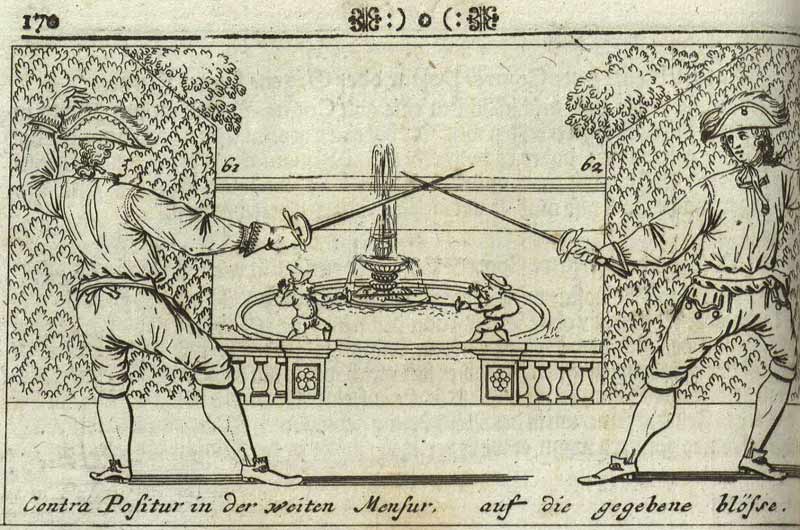 About Exhibition
In recent years geopolitical, intercultural, and social conflicts have become key topics featured in the news and political seminars and conferences as well as the focus of pub discussions and street brawls. It seems then, that the situation in all areas of life on the planet is intensifying as fears about the unleashing of a new global war appear in the media with increasing frequency. Are these fears justified? How does the escalation of conflicts manifest itself in local relations?
Conflicts are an integral part of any type of society, culture or civilization. They are manifestations of different interests, things which are lacking, significant inequalities, and cultural stereotypes. They can move a society forward, but they can also destroy it. In the contemporary globalized world, conflict has taken on a different appearance. Today it occurs far less on borders between territories and more within states, capital cities or among the flow of immigrants.
The exhibition Angry Planet came about as a collaboration between the National Technical Library and the Academcy of Sciences in the Czech Republic. It illustrates how contemporary art approaches the topic of conflict. While newly created pieces lie at the exhibition's core, already existing pieces have also been included. These are, in turn, complemented by a selection of rare books from the historical collection of The National Technical Library. The focus of these books are themes on fortress architecture, military technology and the history of wars.
Thirteen international and local artists are presented in the NTK Gallery in Dejvice, where the exhibition takes place. Here the Dutch architect and sculptor Joep van Lieshout and his studio are shown in the Czech Republic for the first time. The sculpture Untitled/Horse,Mother and Child, taken from the extensive series Slave City, is a dystopian vision of a situation following conflicts on the edge of horror and caricature. At first glance the sculpture is reminisicent of grandiloqent anti-war memorials, yet upon further examination it morphs into a morbid scene of the devouring of the innards of horse caracasses. The American artist Martha Rosler, one of the founders of feminist art, presents a piece from her considerable series of photomontages, Bringing War Home. This series confronts the mindless consumption of Western society with the Middle East's war-torn situation. In his parodical video, Freedom and Independence, German artist and filmmaker Bjørn Melhus illustrates central concepts of neoliberal theory while confronting them with the results of mechanisms of recklessness and exploitation. Bjørn Melhus regularly appears in his videos, often in a variety of roles. In this particular video, alongside the main roles of figures embodying Freedom and Independance, Melhus has created an obscure role featuring the right-wing political thinker Ayn Rand, rendering her in a rather unflattering light. Vasil Artamonov and Alexej Klyuykov, winners of the Jindřich Chalupecký Award in 2010, have contributed a series of paintings inspired by Soviet propaganda and caricatures. Radovan Čerevka, a laureate of the Oskár Čepan award, a prestigious Slovak award similar to the Chalupecký Award, is also among the participating artists of this exhibition, contributing his personal version of African aboriginal art crossed with aerial modeling. Another Slovak artist, Juraj Dudáš, exhibits his interactive installation allowing one to, if only for a moment, put themselves in the American president's shoes. The Czech-American artist Milan Kohout is also represented via his provacative, straightforward posters. Renowned in the media, Kohout enjoys unscrupulously attacking asymmetrical sources of power or religious dogmas. Artist and film architect Jan Kadlec presents a series of staged photographs entitled Albánský únik (Albanian Leak) from 2001 wherein he thematizes issues related to refugees and immigration.
The exhibition's curators, Milan Mikuláštík and Milan Kreuzzieger, have worked together under the assumption that it is necessary, in most cases regarding contemporary and local conflicts, to view the situation in a broader context featuring a rather cosmopolitan (ideally simultaneously global and local, contemporary and historical) perspective than from an international or merely local one.
This exhibition has been organized as part of the 25th edition of the International Conference "Philosophy and Social Science" at the Academy of Sciences in Prague, the Czech Republic. It has been realized within the framework of Strategie AV21's research program "Global Conflicts and Local Contexts."
Curators
Milan Mikuláštík
Milan Kreuzzieger
Gallery NTK
Gallery NTK opened in 2009 as an integral part of the library's cultural offerings. Since that time, it has hosted a number of exhibitions focused primarily on the interconnection between contemporary art, science, technology, and architecture.
Due to the gallery´s location – in the heart of the Czech Technical University campus – a considerable number of students´ projects have been exhibited here as well. In addition to these exhibitions, the gallery has established cooperation with various cultural and scientific institutions that utilize the exhibition space and present new and original topics.
Gallery exhibitions are often covered in the leading Czech media and abroad.
Location: Ground Floor, near entrance NTK2.
Culture at NTK

For us, the library represents a space that is both physically and mentally open – to people, the interchange of ideas, and art. Our building was the result of collaboration between architects, engineers, designers, theorists and artists; these intellectual intersections continue to this day.
The inspiring architecture of the library (including the well-known interior atrium murals by Romanian artist Dan Perjovschi) foster critical inquiry, exhibit a sense of humor, and contribute to what we hope is a unique aesthetic experience.
Our cultural events and cooperations with artists aim to illustrate the reciprocal creative
spark between art and science.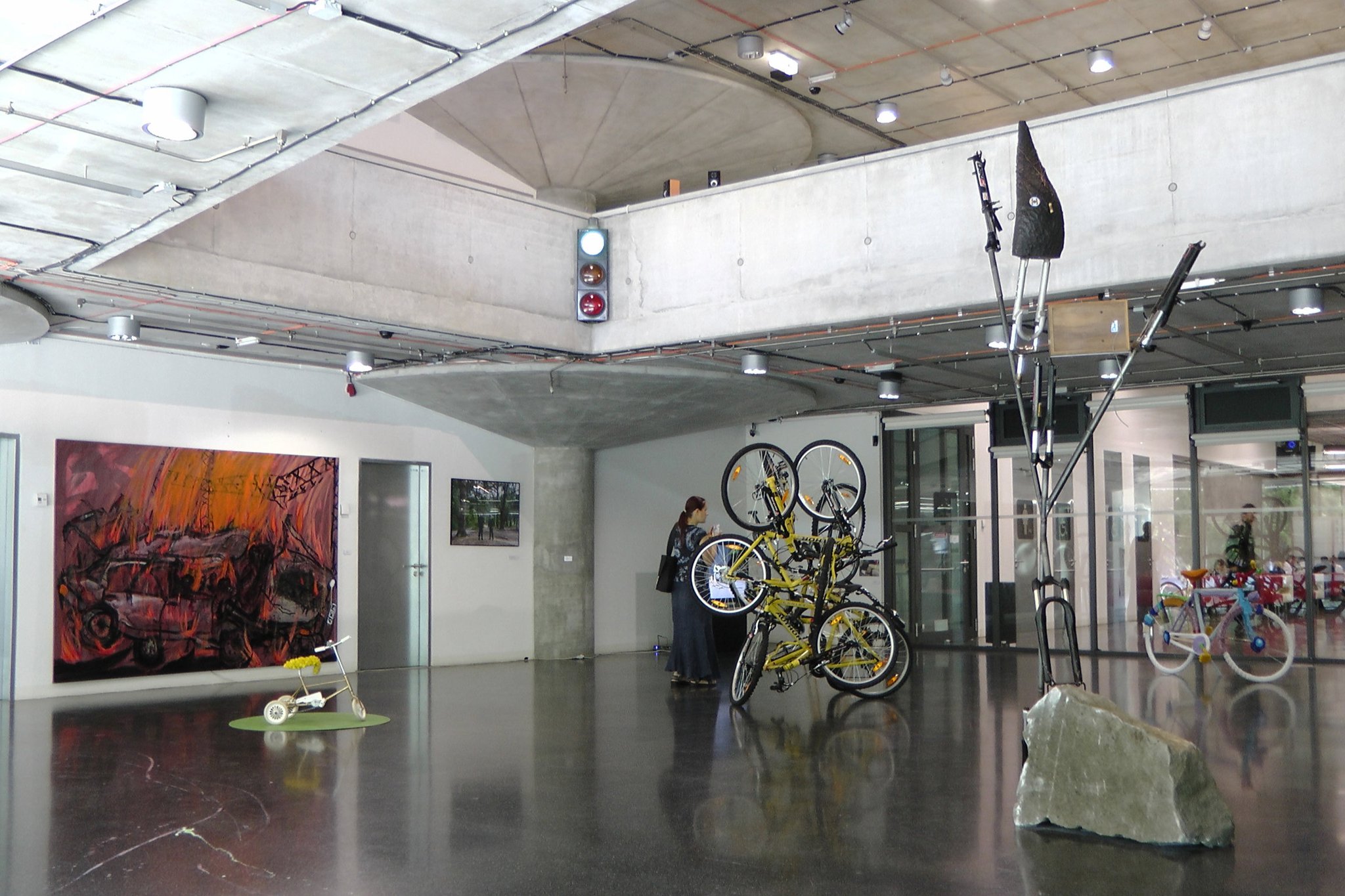 Contact
Milan Mikuláštík, curator
‌ milan.mikulastik@techlib.cz
‌(+420) 773 653 825
Opening Hours
mo – fri 10 — 18
sa 10 — 16
Archive (in Czech)
Partners