Current program
Space Packing Architecture: the Life and Work of Alfred Neumann
Exhibition Openning
August 9, 2017 at 18:00
Exhibition dates
10. 8. – 1. 10. 2017
Where
Gallery NTK
Free entry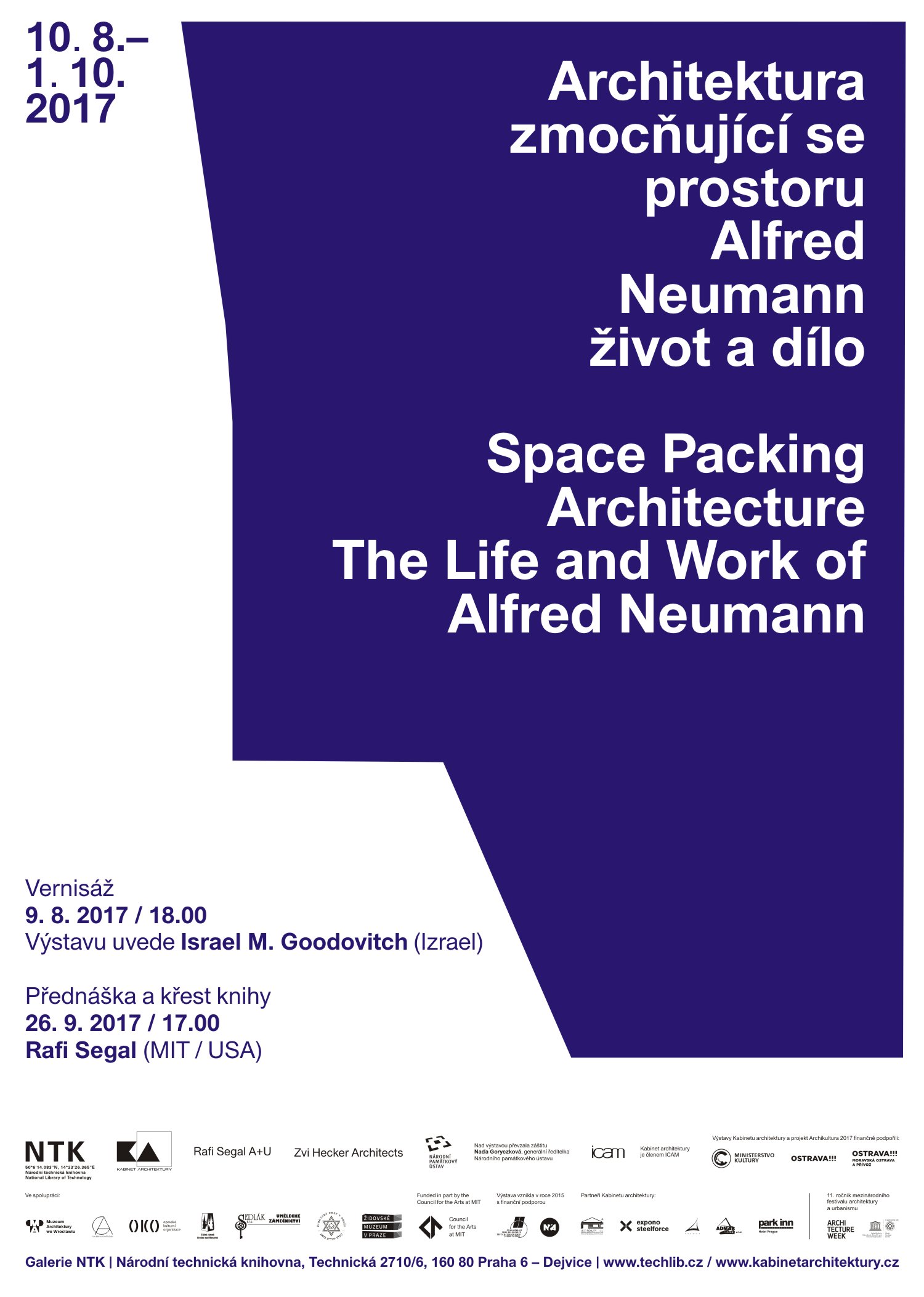 About Exhibition
Space Packing Architecture: the Life and Work of Alfred Neumann is the first-ever exhibition on the work of Alfred Neumann (1900–1968). Active in Israel in the 1960s, Neumann's highly original architecture stands apart from the canon of International Style Modernism from this time: eschewing functionalist and orthogonal expressions, Neumann opted instead for polyhedral geometries that blended traditional architectural principles with new modes of expression. Through a unique display of his most renowned built works, this exhibition brings to light Neumann's expressive architecture and design methodology. It will tell a story about Neumann's architecture through various means, and will bring together never-before-seen photographs, architectural drawings, and large- and small-scale models fabricated especially for the show. Four life-size spatial modules, taken directly from Neumann's most renowned projects, will be built at full scale in the gallery, where visitors can walk among them and experience for themselves an authentic impression of Neumann's architectural geometries and spaces.
Small-scale architectural models of these same buildings in their entirety will provide context for the life-size spatial modules, and will demonstrate how Neumann worked harmoniously among scales and elements to create unifi ed patterns in his designs. In addition an account of Neumann's life will be presented through personal correspondences, photographs, paintings, and sketches. The exhibition balances historical documentation with reconstructed architectural elements in space to provide both an informative account of Neumann's architecture and allow for a real, embodied experience of it. Unveiling Neumann's work provides insight into the creative power of a highly individual architect and thinker who developed and relentlessly pursued a unique architectural language, despite confronting much resistance and hardship over his lifetime. Neumann's contribution to the theory and practice of architecture in the middle of the twentieth century, has yet to be fully comprehended; this show is a first step in doing so.
Fernández de Córdova & Roda - Casas
Exhibition Openning
August 9, 2017 at 18:00
Exhibition dates
10. 8. – 1. 10. 2017
Where
Gallery NTK
Free entry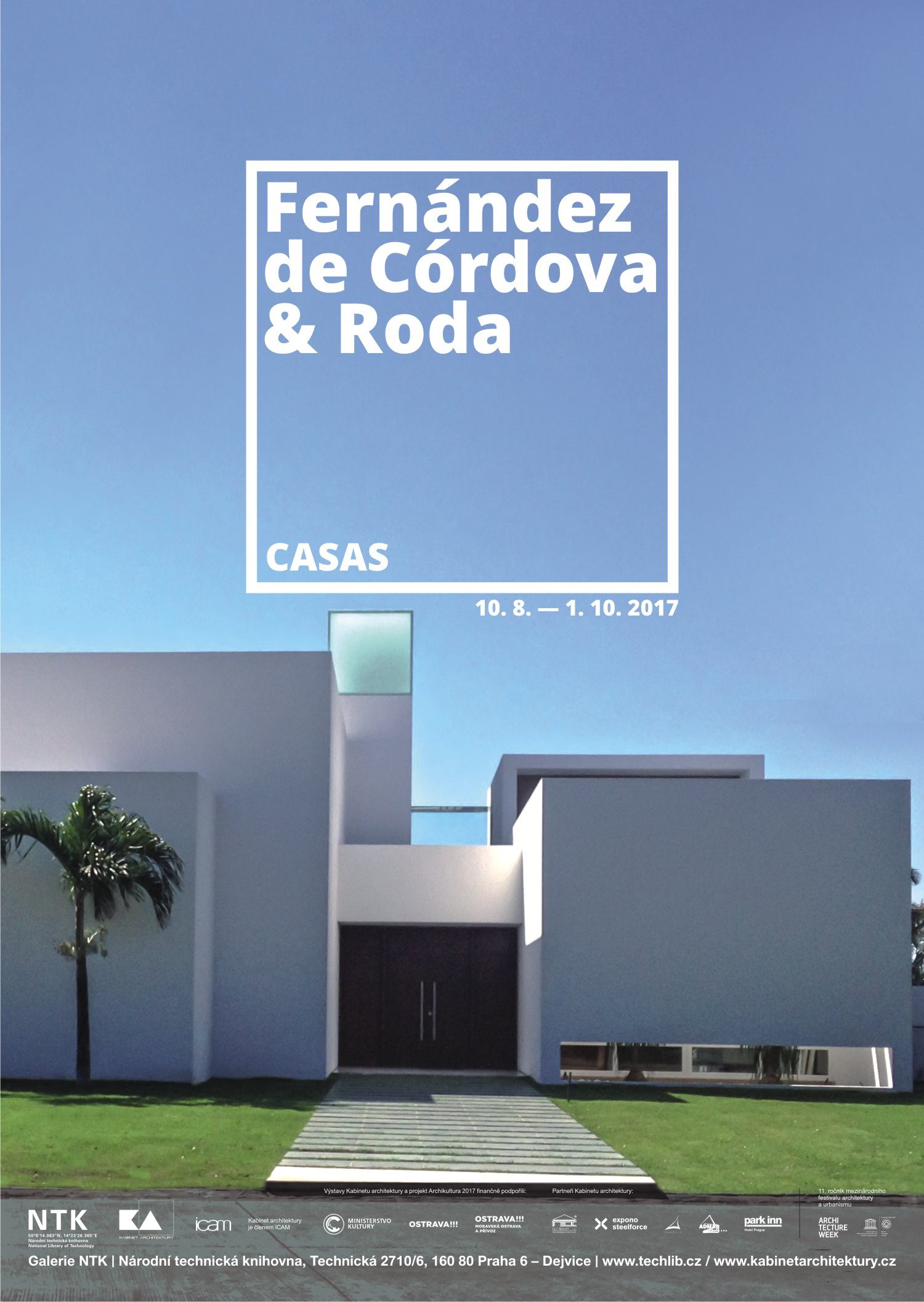 About Exhibition
The architecture and construction company Fernández de Córdova & Roda was founded on 1984, in the city of Santa Cruz de la Sierra, Bolivia – South America. The architect Luis Fernández de Córdova L., Co-founder and Director of FDC&R, finished his studies in 1979 at the Universidad Católica de Córdoba, Argentina. In 1997, the Bolivian Institute of Architects gave him its highest distinction, the National Architecture Award "Emilio Villanueva" in recognition to his professional work. Throughout its 32 years, the company has designed and constructed: single family homes, multifamily buildings, shopping centers, housing developments, residential complexes, educational buildings, recreational centers, collection centers, office buildings, libraries, public spaces, vocational centers and institutional buildings. FDC&R conceives architecture as a service that allows the joy of experimenting and realizing proposals with responsibility and respect towards people and the environment.
Barcelona Architecture and Design
Exhibition Openning
August 9, 2017 at 18:00
Exhibition dates
10. 8. – 1. 10. 2017
Where
Gallery NTK
Free entry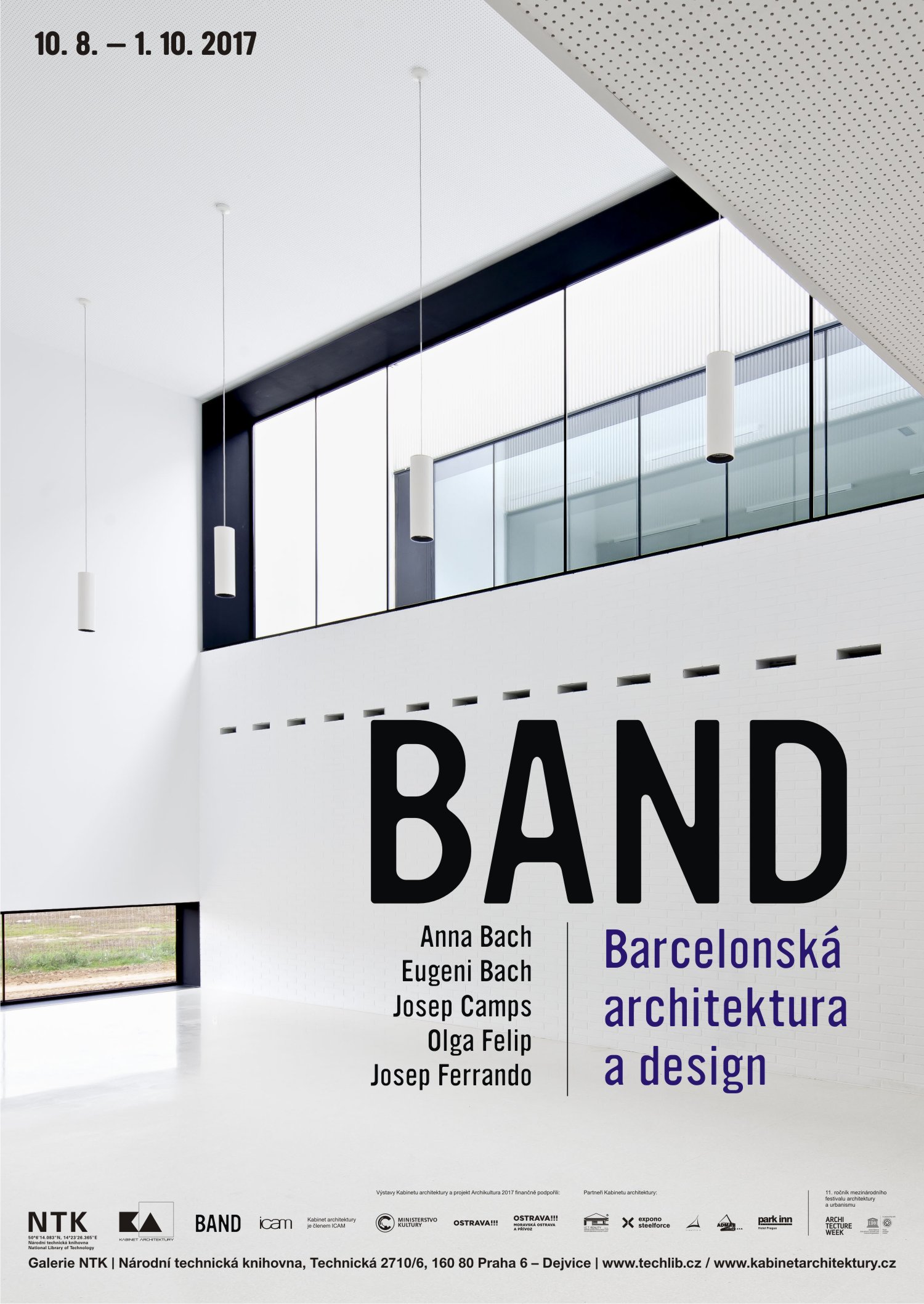 About Exhibition
BAND – Barcelona Architecture and Design | Anna Bach | Eugeni Bach | Josep Camps | Olga Felip | Josep Ferrando
BARCELONA – The word "Barcelona", is worldwide associated to the mediterranean way of life; comfortable weather, beautiful landscapes, history and culture. Barcelona is, though nowadays, much more than that, due to the effort of several generations of hardworking entrepreneurs who started global companies already in the beginning of the 20th century and who found a strong support on their ideas by the means of Architecture.
Architecture has always been a strong part of the Catalan culture, and has been always so close to society that it is difficult to think on the Catalan heritage without talking of architecture. Probably Gaudí, the famous architect, is the most visible of this very strong Barcelona architecture, but there are many others who have helped in making architecture an essential part of our culture.
ARCHITECTURE & DESIGN – Architecture is not only a heritage, it is most of all, our present: the Barcelona Olympic Games ´92, the Culture Forum 2004, and many other events in our city have been realised hand in hand with the most worldwide acclaimed architects, and this relationship has gone further away, transforming Barcelona into one of the most important centres in architectural education in the world, with the Barcelona School of Architecture as one of the most acclaimed architecture universities in Europe and other architecture universities and post degree centres with students from all over the world.
BAND – In this context, BAND – Barcelona Architecture and Design – is formed from the experience and knowledge of three architecture studios which are profoundly merged into the Barcelona philosophy: Culture, Entrepreneurship, Effort, Education and Passion for our field are the main common features of all its members.
In the beginning of the 21st Century, when a radical change of paradigm is taking place all over the world, we no longer see our field of action limited in one geographical area. We understand our work as part of a global reach, without forgetting the virtues of our local background.
Gallery NTK
Gallery NTK opened in 2009 as an integral part of the library's cultural offerings. Since that time, it has hosted a number of exhibitions focused primarily on the interconnection between contemporary art, science, technology, and architecture.
Due to the gallery´s location – in the heart of the Czech Technical University campus – a considerable number of students´ projects have been exhibited here as well. In addition to these exhibitions, the gallery has established cooperation with various cultural and scientific institutions that utilize the exhibition space and present new and original topics.
Gallery exhibitions are often covered in the leading Czech media and abroad.
Location: Ground Floor, near entrance NTK2.
Culture at NTK

For us, the library represents a space that is both physically and mentally open – to people, the interchange of ideas, and art. Our building was the result of collaboration between architects, engineers, designers, theorists and artists; these intellectual intersections continue to this day.
The inspiring architecture of the library (including the well-known interior atrium murals by Romanian artist Dan Perjovschi) foster critical inquiry, exhibit a sense of humor, and contribute to what we hope is a unique aesthetic experience.
Our cultural events and cooperations with artists aim to illustrate the reciprocal creative
spark between art and science.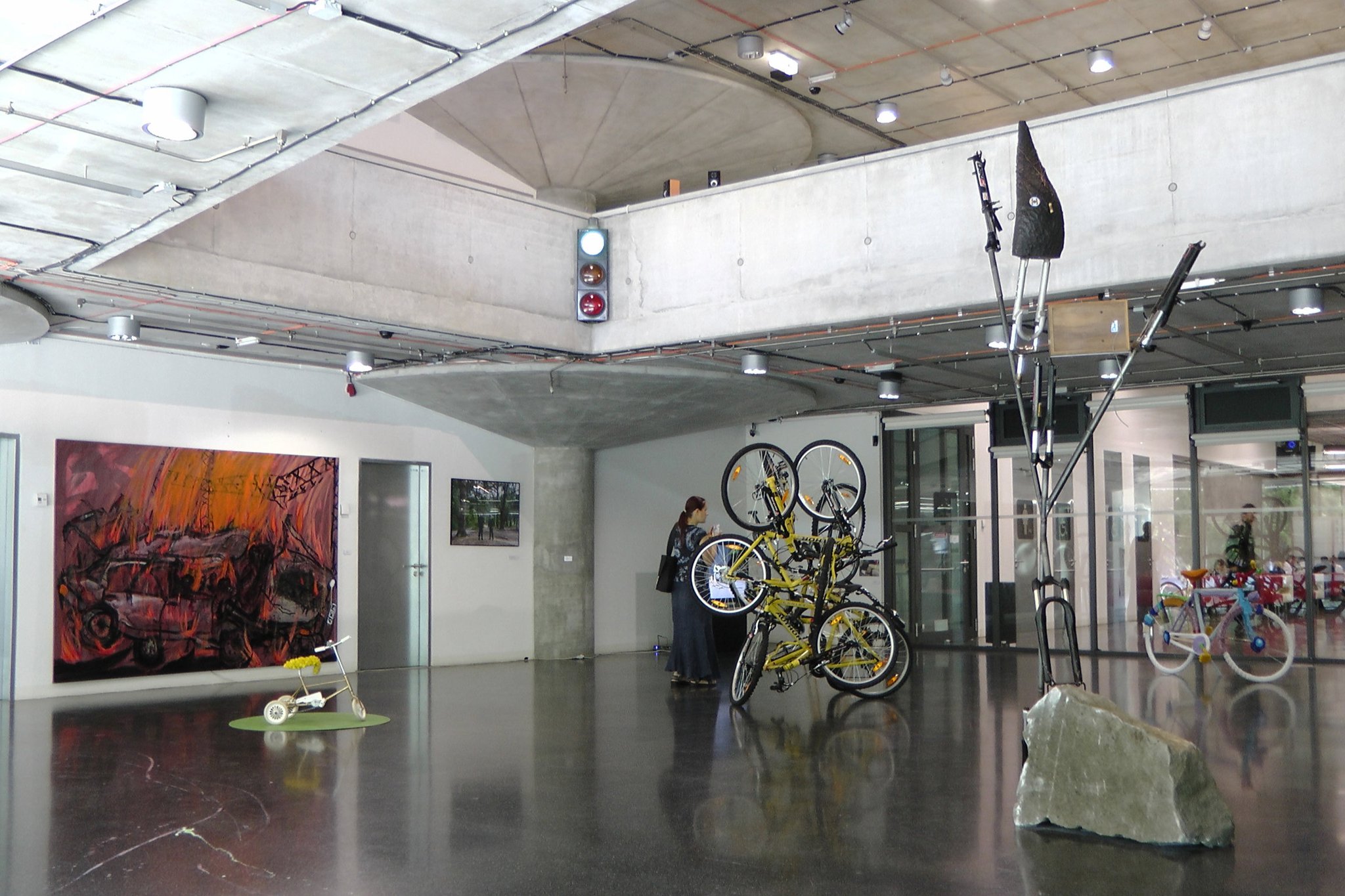 Contact
Milan Mikuláštík, curator
‌ milan.mikulastik@techlib.cz
‌(+420) 773 653 825
Opening Hours
mo – fri 10 — 18
sa 10 — 16
Archive (in Czech)
Partners