EOD Offer: Centennial of the Republic
October 2018 marks the centennial of the founding of Czechoslovakia. To celebrate the occasion, NTK with cooperating libraries offer you to digitize a book via the EOD service for just 10 EURO (260 CZK). The discount is applied for up to 250 pages, the regular price applies from page 251 onwards.
October 1 - November 11, 2018
To select a historical book for digitization, browse the library catalog, use the search box below or choose from recommended books. If you see the eBooks on Demand (EOD) icon, the item is out of copyright and can be digitized. Select the EOD icon and to follow the steps outlined in the order form.
Enter the promotional code "100let" in the remarks field of the order.
Your eBook will be delivered in PDF format with searchable full-text delivered to you by email or on CD/DVD.
Digitization process and other related information about EOD service are availabe on the EOD service website.
| | |
| --- | --- |
| | "A walk through Prague" is a cycle of both serious and joyful poetry written by an austrian art historian, actor, journalist and playwright Heinrich Zimmermann (1847-1911). This collection of poems is focused on Prague and it's history. Book is printed in neo-gothic font. |
| | An essay writen by graphic designer and painter Karl Wellner (1875-1926). Book was aimed at amateur photographers, who mastered technical aspects of photography and wanted to learn about landscapes from artistic point of view. Second part of the book describes history of landscape painting. Illustrated with black & white photographs and illustrations. |
| | Physics in the service of war, a general foundations of military technology of WWI. Written by german physicist Felix Auerbach (1856 – 1933). Contains black & white photographs and illustrations. |
| | Book release of lectures by water engineering professor at CTU in Prague Antonín Klír (1864 – 1939). Text consists of facsimile of authors own handwriting and sketches. |
| | Krupp's factories in Essen were in their time embodyment of German industrial might. This industrial complex functioned as it's own city with own police, firemen service , schools etc. At the beginning of World War I it employed over 80 000 people. Publication focuses on residental houses in the factory complex. Contains black&white photographs and plans. Printed in neo-gothic font. |
| | A compilation issued to celebrate 100 year since the birth of Czech-German writer, ranger and inventor Josef Ressel (1793-1857). Book focuses on his inventions. Printed in latin font, contains photographs, illustrations and Ressel's letters. |
| | Describes Prague water supply and water treatment methods in the early 20th century. Contains list of waterworks and water balance. |
| | First Czech written handbook on photographing microscopical objects. Author is Prague based veterinarian Karel Kovář (1868-1905). He writes about brief history of the subject and provides practical approach. Book describes a microscope, photographic chamber, it's equipment and the production of negatives and positives. |
| | Biography of Czech painter Karel Purkyňě (1834-1868) written by art historician and publicist Xaver Jiřík (1867-1947). Contains 16 black&white reproductions of artists works. |
| | Rudolf Cronau (1855-1939) was German (and later American) journalist, painter and illustrator. Famous mainly for his illustrations, articles and books about Wild West. First volume of the series about history of American continent was issued on the occasion of 400th aniversary of the discovery of America. Covers the history of the continent from prehistorical events up to the conquest of Mexico by Cortéz. Printed in neo-gothic font, most of the illustrations are self made by Cronau himself. |
| | Second volume of Cronau's publication about history of America. Begins with chapter describing discoveries made by Spanish conquistadors and continues up to 19th century. Contains special chapter on German attempt to colonise Venezuela in 16th century. |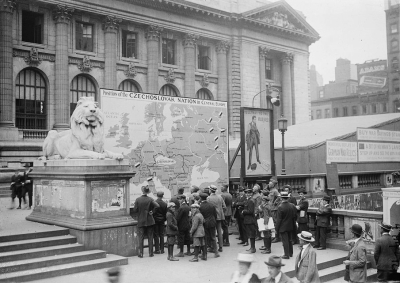 Contact
Jan Dobiášovský
‌ eod@techlib.cz
‌ jan.dobiasovsky@techlib.cz
‌ (+420) 232 002 432
See also